I used to enjoy the yearly round up and the process of looking back over the year brought up surprises and moments that I had forgotten about with unexpected high points that had slipped my mind. This year feels quite different.
It's the first year that I made the full time move to Edinburgh and while I had been excited about the prospect of settling in a new city , what I hadn't fully appreciated was how traumatic that would be emotionally and psychologically and the impact that would have on my whole life and my creative output.  I had always felt quite motivated and in many ways was a self starter and able to visualise a project, make it happen and see it to completion. The big thing of 2018 was finishing the book 'Extreme Scotland' and  that had been the impetus and driver for a lot of my creative output as well as the commercial shoots and projects over the 6 years of making the book happen. Once that was completed and the book was finished it left a bit of a vacuum , and while 'Lakeland Extreme' collaboration  is in the pipeline and Tom McNally is doing a fine job of getting the quality of images that we need, I found my own creative inspiration floundering, and in some ways , non existent.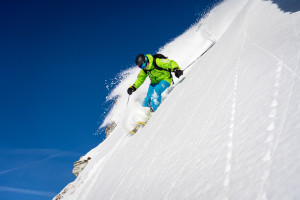 I had taken some time out at the beginning of the year to work on my skiing and working with the ski coaches at Warren smith ski academy in Verbier was great and they really helped me to move from being a bad skier to being a competent skier with only a few tears and mishaps along the way. I should say that while the creative output photographically had dropped down a gear in my own personal work , the creative side of things musically had developed and a band in Edinburgh took shape and we then toured out in Verbier and Chamonix playing gigs in Apres ski bars.
https://www.youtube.com/watch?v=VmaAJjSyHOk the band is called Absolution and if you're interested you can follow us on FB as Absolution Muse tribute UK
I did a shoot for Montane with the Abacus team and Jon Gupta, Jon is a highly talented and accomplished alpinist and holds the record for completing all the seven summits in the fastest time . The shoot was particularly memorable as I fell ill the day before the last day, when what I wanted to do was stay warm, drink lots of fluids and honey/lemon and take paracetamol , what I had to do was  drug my body, gear up and then drag it up Ben Nevis , the shots speak for themselves but I was horribly ill for a few weeks with a chest infection , not recommended.
The hero shot of Jon is now all over the world as the Performance Edge image .
https://www.montane.co.uk/performance-edge-i1034
I think since moving away from Essex and coming to a new city, I realised how important a stable family situation had been for me , strong friendships and being established  within an area  gave me a lot of confidence to move from . I was moving and returning to a stable base, and there was a lot of strength in that. After My 22 year marriage ended in 2015 and I left the friendships and the social bonds of the past behind in Essex and moved to Edinburgh I realised that I  felt really quite empty, lost and really in quite a dark place emotionally . It took a good 6 months to start to feel like I was putting down roots in this new city , building new friendships and friendship groups and feeling connected again. Everyone is different, some people are happy just being on their own and enjoying their own company and while that's good and has benefits, too much of it for me definitely doesn't work.
One of the days that we really earned our crust was shooting for Ellis Brigham with the Abacus team and Donald King. This was a spicy day in the hills with spindrift avalanches pouring down the mountain all around us. Plan A had been to be on the Ben but Donald called it and said the Avalanche risk was too high with the  wind and snow conditions and decided we head to the Buchaille instead.
I don't know if these images give a sense of what the day was like but I could hear my phone pinging away in my rucksack and it was only when we got back to the van that we realised  3 people died on the Ben that day and as we had just crossed the slab at the base of Curved ridge , we all looked up and saw an avalanche come down over the slab, a lucky escape !!
I had a trip to the Lake district doing a shoot with Matt Foot and Adam Simpson for Lakeland Extreme and we were very lucky with conditions , cold and perfect mixed climbing conditions , the lads were on Wintercepter VII 8 on Gable crag and I was shooting on a static line alongside. It was one of the first shoots I did with the Sony a7iii and have been really pleased with the results and also very happy with the reduction in the weight of my kit.
The past year also saw a number of talks to camera clubs and climbing clubs about the Extreme Scotland book and also on photography generally and if you're in a club or group and would like me to come along and chat then please get in touch.
In the spring time , I was back in the Lakes with Joe Flanagan and Scott Quayle on Gimmer crag, a great crag and Joe and Scott were blasting up routes effortlessly for the camera. Its great working with people that are so in their comfort zone on this grade of climb and the shot of Scott on  Gimmer String  E1 was a UKC photo of the week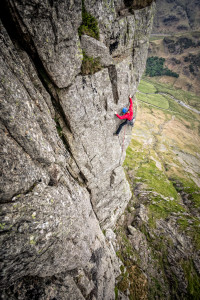 The summer was largely photo free, I had a family trip to Cyprus and Sarah and I went to Portugal to learn to surf, enough said about that but learning to surf is bloody hard and the closest thing to learning  it is being in a stuck in a  washing machine , with about 99% effort for about 1 % fun and I also had the pleasure of a glass shower door exploding while I was in the shower! I didn't know that shower doors could do that but if you google exploding glass shower doors, apparently its a thing ;
https://www.thespruce.com/glass-shower-door-shattered-by-itself-3972517
Glass was everywhere, in my hair, all over my body and and while I was cut , it wasn't serious but could easily have been so. Another lucky escape ! In the photos you can see the outline of where my feet were when I was standing in the shower.
At the tail end of summer , I was out in Austria with the Brigham team shooting the SS20 images , I've worked with these guys for a while now and they're a super cool and very talented bunch of athletes/models . For commercial shoots , I still use the elinchrom ELB400 as it gives so much control over what I can do and the look I can create in the mountains . The hypersync function means I can shoot at any shutter speed and still have well lit subjects and is key for getting the images I want
In the Autumn, I was speaking and running workshop at the Dundee Mountain film festival as well as having an exhibition, it was well received, books were sold, new friends made and all in all , a fun time.
So looking forward I'm planning on getting the wheels back on the wagon, finding my creative mojo again for personal projects and getting back out there. In many ways , 2019 was about putting down roots in a new place, starting to build connections and feel like , this is my home now. It's still a journey but it does feel a lot more positive than it did 12 months ago.  Thanks to everyone thats been willing to get out into the hills and get in front of the camera in good weather and bad. Thanks to those that have responded to FB calls for athletes at short notice and thanks for taking the time to read this  and follow what I'm up to.
Have a great 2020 and hope to see you out there,…  somewhere.