Back in the summer I had the good pleasure of photographing my friend and all round hero/rock god Robbie Phillips . Its the first time I've been able to shoot an adventure piece literally 5 mins away from my front door so that was a nice change . Robbie had been spending his one hour a day's exercise quota during lockdown hanging like a bat from the roof cracks under the bridges above the canal  in Edinburgh and when Red Bull caught wind of this they sent their intrepid reporter Matt along to interview Robbie and asked me to do the pics.
Photographic angles on this are limited , I can only photograph it from the bank , there's no view from above so I took my SUP along to try and get a side on view of the action.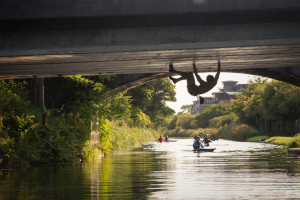 What I should have done was given a rope to my assistant attached to my SUP so he could hold me in position on the river. Instead what i did was try and paddle and shoot at the same time and stop myself falling off my board/drifting down river/into the bushes on the river bank with the result that it was a bit hit and miss but I was fairly happy with the silhouette shot which does show the slightly bizarre urban scene of a human fly suspended above the river while 'normal' life goes on below on the river.
As is often the case , I was using the Elinchrom quadra system and F-stop gear bags . The quality and dependability of the lighting system is second to none and makes sure I have total control over my lighting. As Robbie was under a bridge , being able to light this was key to getting workable images , without lighting it would just be a dark shadowy mess . One of my general rules for photographing any subject is to try and include part of the face of the climber , after all, we're trying to convey emotion and so much of that is communicated through our facial expressions . We now how disabling it is in the world of COVID and masks to interact with someone when you can't  see their face properly . And part of makes climbing photography so engaging is seeing the struggle expressed in the climbers expression, all in a breath taking situation ( or under a bridge ) which pulls a viewer in much more than a shot of the back of someones head . In dark shadowy situations , its even more important and I was directing Robbie a bit as to what would make a good shot from a facial angle point of view .
Here's a link to the article in the magazine https://www.redbull.com/gb-en/theredbulletin/robbie-phillips-urban-climbing-scotland where you can read Robbie's thoughts and insights into the adventure .
While I'm not a portrait photographer , I do enjoy portraiture and I used 2 quadras, one as my key light and one as a back light to give some definition to the back of the neck improving separation of my subject from my back ground. I think adventure sports photographers have embraced strobes , especially in biking photography and its not a big leap to use the same tools for portraiture .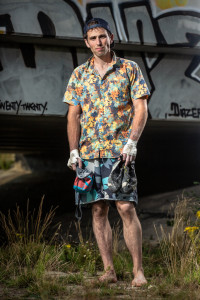 Maybe this image is my fave from the selection, I used 2 strobes on this , one key and one backlight and you can see the reflection of the backlight in the water and I photoshopped the light stand from the backlight out of the image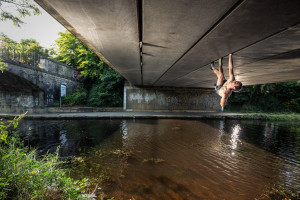 As always , the kit is protected and transported in F- stop camera bags , the Loka UL being my bag of choice for size, weight and functionality .
Thanks for reading , check out Robbie's website for more adventures and derring-do tales https://www.robbiephillips.co.uk